Edge-To-Edge Rider Fitness Program
$107.99
Rider fitness is essential to your success with your horse. This program is designed specifically to help build muscle and correct muscle imbalances that often occur from riding. As we know, muscle imbalances in our horses lead to poor performance, instability and possible injuries. The same applies to riders. Give yourself a leg up with the Edge-to-Edge Rider Fitness Program.
Program Details
Each week, you will be given 2 arm/core days and 2 lower body day workouts/week from which you will build upon to increase your strength, stamina, flexibility and suppleness. Whether you are a professional looking to stay in shape or an adult ammy/junior young rider trying to get more out of the time spent with your horse, this program is designed to help you achieve your goals. You can customize the program to fit your schedule and your needs regardless of your current fitness level.
What You'll Need
Access to a gym with full equipment is preferable for this program, but all movements can be modified to be done nearly anywhere, with very little equipment.
Recommended equipment, but not required
Dumb Bells
Kettle Bells
Exercise Bands
Barbell/Weight Set
Exercise Mats
If you have any questions or concerns, please contact us.
Description
Meet Your Instructor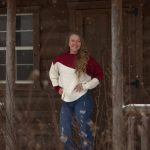 My name is Annamarie Lewis and I am the owner of Lewie's Body Shop. I have always had a heart for helping others and when I found my passion for fitness, I knew I had found the avenue in which I could change lives. 
As a certified personal trainer, I am able to share all that I have learned and help others achieve their fitness and health goals. It is my goal to help others in any way I can with their health, inside and out. Whether you are just ready to make a change or are already on the road to a sustainable healthy lifestyle and need guidance, I am here for you. 
Being able to see even the smallest win makes my heart so happy and I am so thankful to have the opportunity to change even just one life with my personal training business.